Dedication of Howard Hall
God will not forget your labor of love to the Saints . . .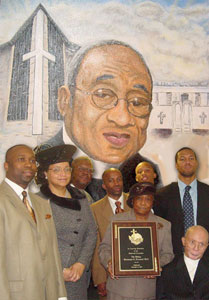 The Howard family Matriarch, Ms. Josephine Howard gathered with the Howard family as the New Bethel Church Family dedicated the hallway that leads to Pastor Howard's Office, by naming it the Sherman S. Howard Hall.  In salute to the memories of Pastor Howard, President's Council Chairman, Dr. Herman Tolbert, Jr. along with other Church Officials placed a Memorial Plague on the wall.  On the wall, was a  photo of Bishop Howard shaking hands with the Pope in Rome, Italy.  The other photos accompanying that particular photo were Bishop Howard with U. S. President Ronald Reagan,  Bishop Howard with the late Bishop James Oglethorpe Patterson, Bishop Chandler Owens, the late Bishop Henry Ford and the late Bishop G. E. Patterson.  These photos were organized, framed and placed on the wall by Church Secretary – District Missionary Norma F. Brailsford.  An original oil  gold framed portrait air stroked by the artist himself, Bro. Stefan Carty of Silver Spring, Maryland, was the special highlight during the 50th Anniversary Celebration.  This too, was placed in the hallway.  These photos will be displayed in the website gallery.