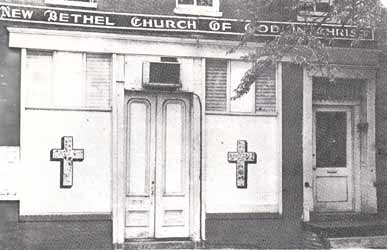 1123 S Street, N.W. 1955-1963On October 31, 1955, the New Bethel Church of God in Christ was organized by Elder Sherman Howard at 1123 S Street, N.W., Washington, D.C., without members. However, during the evangelistic and deliverance service on the opening day, its first member was fellowshipped into the church, Mother McKinley.
Under the leadership of Elder Howard, the members of the church observed a remarkable growth, and after nine years it was necessary to move into larger worship facilities at 5714 Georgia Avenues N.W. The dedicatorial service was held on Sundays June 16, 1963.
In February 1956, the pastor organized the New Bethel Choir, which he directed and accompanied. Later, it was accompanied by Bro. Donald Palmer, who served in this capacity for a number of years. Having only two members initially, it currently boasts approximately 65 members with a musician's staff which consists of 4 directors, 2 pianists an organist and 3 percussionists.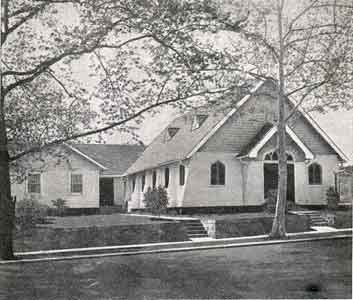 5714 GEORGIA AVENUE, N.W. 1963-1972
Also during the same year, the first church officer was appointed that of church secretary, Sis. Sara 0. Mosely. She served in this office for approximately 12 years. Sis. Norma Brailsford now serves in this capacity.
The church began its first broadcast in February 1957. For a short period of time the broadcast was held twice on Sundays. mornings and nights. This was most beneficial to the church. New Bethel yet broadcasts every Sunday night over radio station WOOK at 8:30 P.M., with Deacon Joe Oliver as announcer. He has served faithfully in this capacity for approximately 14 years.
Throughout the entire history of the church, it has been blessed with many devoted and loyal friends who have encouraged the members to strive harder and work with the pastor, regardless of adverse conditions.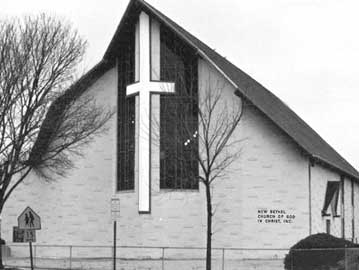 6440 Piney Branch Rd. 1972-Present
As the membership grew, other clubs and organizations were added to the church. Currently there are 20 active organizations and an ever-growing membership. In addition, there are 6 ministers, 3 deacons, 25 missionaries, 8 mothers and 4 choirs.
God has provided the church with an ideal minister who has untiringly and unceasingly fed his congregation with the spiritual food of life. Through trials and conflicts, he has labored unceasingly for the constant progress and upbuilding of the church for the cause of Christ.
Elder Howard loves God and his members and tries to instill in the minds of the members, as in their hearts, the idea of creating within themselves the very same love—love for God and for mankind. This formed the church's pattern of success along with persistence and consistence in prayer and fasting.